The March 2017 partner meeting and annual get-together of the TARGET project coincided with the hosting of a magnificent Technology Festival/ Conference (TINN) in Narvik. The 2017 TINN festival was the merging of the TINN and Narvik Harbour Conference into Rallardagene.
The conference, and associated events, brought together a large gathering of internationally renowned experts and academics to consider and discuss a wide array of specialist topics ranging from the aerospace industry, digitalisation and production logistics for small business, renewable energy and energy efficiency, transport and transport infrastructure, as well as government priorities for Norway's growth industries.
The conference was supported and facilitated by UiT – The Arctic University of Norway (Anne Husebekk, Rector) and Narvik Municipality (Rune Edvardsen, Mayor).
Three TARGET partner representatives (Prof Åsa Ericson, Dr. John Moore and Dr. Sakari Pieskä) made presentations at the Conference on engagement with SMEs to promote sustainable business development and global competitiveness via enabling technologies and applications, and focussed on the TARGET manufacturing supports toolbox.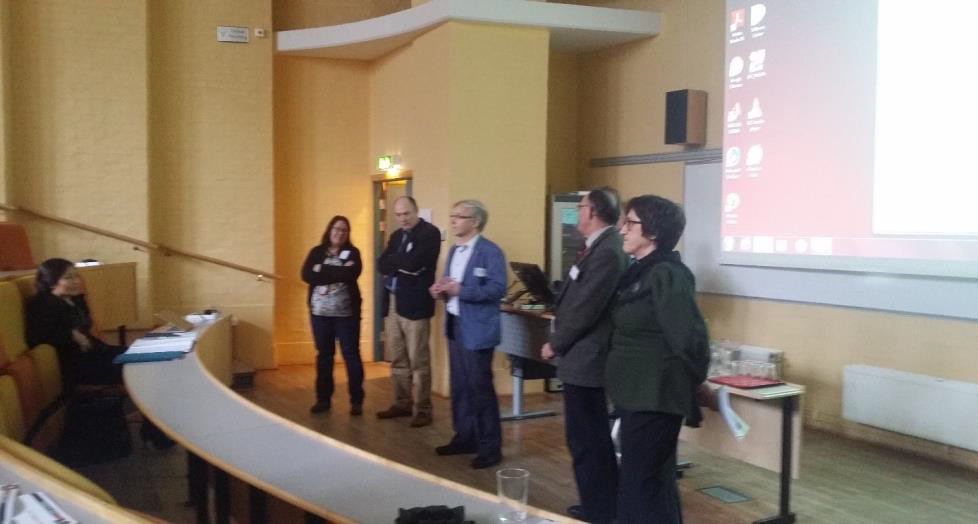 Representatives of the TARGET project partners taking part in a Q & A following their presentations to the conference. L/R Prof. Åsa Ericson, Luleå Technical University (Sweden); Dr. John Moore, South West College (Northern Ireland); Dr. Sakari Pieskä, Centria University of Applied Science (Finland); along with Prof. Constantinos Soutis, University of Manchester; Edel Storelvmo (Conference Chairperson), UiT Norges Arctic University.
The first part of the meeting focussed on a range of topics, including a detailed review of the current status of the project in relation to the overall project plan and performance indicators. Individual partners reported on progress under their work package. Particular focus, and attention, was given to engagement with participating companies-engagement models and questionnaire format were presented and considered in detail.
This was followed by a partner report and discussion on the manufacturing supports toolbox, which is at an advanced stage of development and testing. It was agreed that the responsible partners would follow through on the discussion, and in particular, finalisation of the diagnostic questionnaire. Partners also received a lengthy and detailed presentation on a specialist 3D lab, followed by a very informative visit to a TARGET champion company, BrФdrene Karlsen at Husøy.