South West College (SWC) organised a highly successful and well attended First Annual TARGET Conference on 22 November 2016. The Conference theme was "Opportunities in Digital Manufacturing". The event, hosted in the College's state of the art Passive Pavilion at the Centre for Renewable Energy and Sustainable Technologies, brought together a large gathering of TARGET project professionals, academics, SMEs and industry representatives (from Northern Ireland and the Republic of Ireland), as well as officials from government bodies and institutes.
In addition to promoting opportunities in digital manufacturing, a key objective was to advance the TARGET project's goal of making regional manufacturing globally competitive and innovative.
Opening the event, Padraig Mc Namee, Head of Technology at South West College noted how recent government policy and investment in digital infrastructure was recognizing how exploiting digital technologies offers the most cost effective way for maximising competiveness and improving products, processes, productivity and profitability.
The Keynote address was delivered by Dr Stephen Brennan, Chief Digital Advisor to the Irish Government. Dr Brennan outlined the ever increasing importance of technology in all aspects of business, stating that: –
'The ubiquity of digital gives us so much opportunity, and the only thing stopping us is our willingness and ingenuity to engage with it. With what is available, and the way we are connected, the question for everyone here is how you as a business, can get closer to your end user.'
He highlighted how modern technology allows for great interaction, particularly between manufacturer and consumer, saying 'the internet must now be pervasive, no one in the office or organisation should be non-digital'.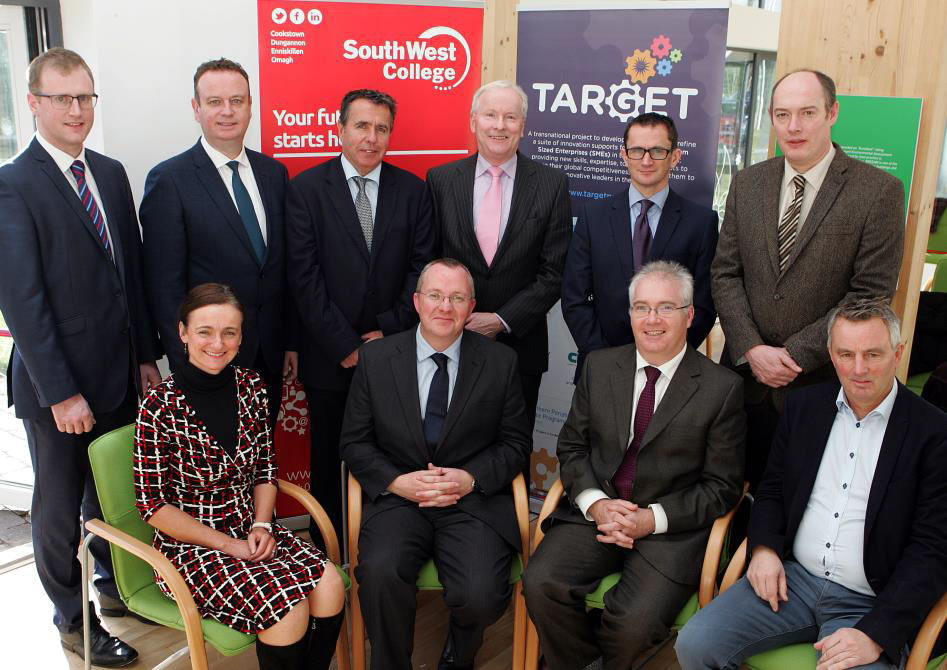 Left to Right; Front row; Lyn Sharkey(ABCON Ltd);Dr Stephen Brennan;Padraig McNamee(SWC);Vidar Gunnberg (Finnsness Study Centre Norway)Back Row; Aaron Black (SWC);Stephen Kelly(CEO Manufacturing NI); Michael Polson(InvestNI);Vincent Reynolds(CavanITC); Paul Hermon(Queens University Belfast); Dr John Moore(SWC).
Prof Wei Deng Solvang from the Arctic University of Norway; Prof Asa Ericson, Luleå University of Technology, Sweden; Heidi Kaartinen, Centria University of Applied Sciences, Finland; and Vidar Gunnberg, CEO of Finnsnes Study Centre, Norway, spoke about some of the industries located in their respective countries, the issues and challenges faced by industry there, and how the TARGET project is helping to address (these issues /challenges).
Other speakers at the event included Stephen Kelly, CEO of Manufacturing Northern Ireland; Dr. John Moore and Aaron Black (SWC); Michael Polson, Invest Northern Ireland; Paul Hermon, Queen's University Belfast; and Lyn Sharkey, ABCON Industrial Products Ltd, Cootehill, Cavan, Republic of Ireland.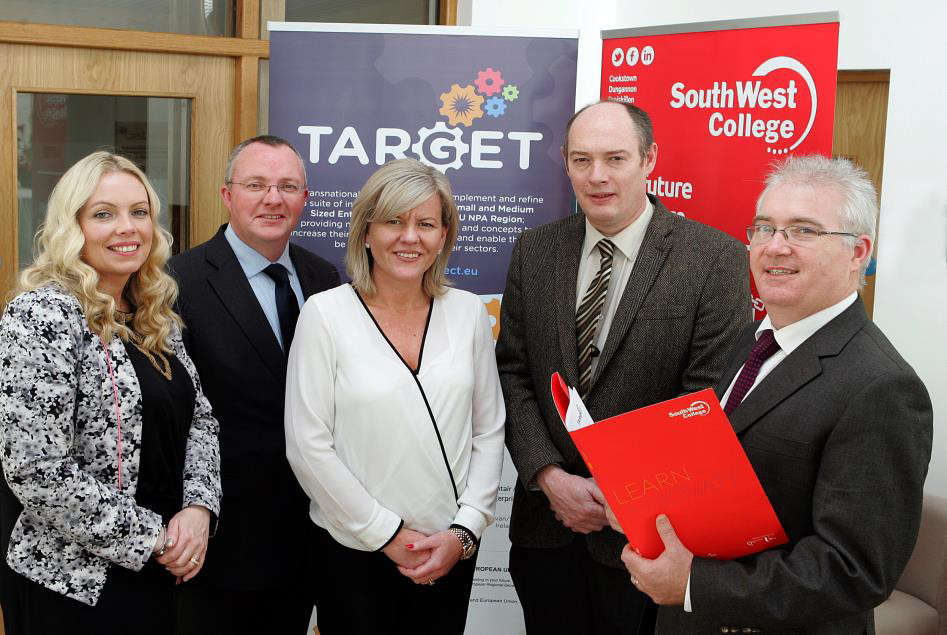 Pictured at the Enniskillen Conference (L/R):- Edel McCusker TARGET Manager (SWC), Dr Stephen Brennan, Sarah Reid (Special EU Programmes Body), Dr John Moore and Padraig McNamee (SWC).